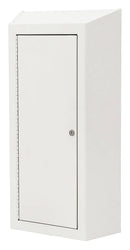 ---
Availability : Usually Ships in 12 Business Days
Outside Dimensions: 32-1/4" x 19" x 3-7/8"
Inside Container: 27" x 12" x 3-5/8"

A low-profile ligature resistant surface mounted cabinet, in combination with Oval BrandÕs extinguisher, offers 3 sloping edges that protrude 4_ from the surface. This ligature resistant design complies with CMS, ADA and NFPA-101 Life Safety Code requirements. This cabinet and extinguisher can easily be surface mounted at the required locations throughout your healthcare facility while meeting CMS requirements. Fire Extinguisher Cabinet, Mounting Style Surface Mount, Indoor/Outdoor Indoor.

Definition of a Ligature Risk - The Department of Health and Human Services and Centers for Medicare and Medicaid Services (CMS) define a ligature risk as Òanything which could be used to attach a cord, rope, or other material for the purpose of hanging or strangulation.Ó CMS states that patient safety is compromised if such risks ensue.

PatientÕs Rights Condition of Participation (CoP) - CMS maintains that a hospitalÕs PatientÕs Rights Condition of Participation provides all patients with the right to a safe environment, and patients with suicidal ideation or other psychiatric disorders are particularly vulnerable. Ligature-resistant or ligature-free responsibility pertains specifically to psychiatric hospitals or psychiatric units within a hospital. The CMS directs these facility types to take every precaution to minimize patient safety risks in accordance with national standards and guidelines.

The Fire Extinguisher Problem -ÊMany existing fire extinguishers and fire extinguisher cabinet installations present the exact ligature risk that psychiatric hospitals and psychiatric units within hospitals are responsible to eliminate.Ê

The OVAL BRAND Solution -ÊOval Brand Products offers the ONLY surface mounted, low-profile, ligature resistant cabinet designed for use with the Oval Brand extinguishers. These surface-mounted fire extinguisher cabinets are the only solution to comply with CMS, ADA, and NFPA-101 Life Safety Code. The low-profile fire extinguisher cabinet incorporates safe, sloping edges and protrudes 4Ó from the surface. The Oval Brand ligature-resistant surface-mounted fire extinguisher cabinet also eliminates the need to cut holes into existing walls to achieve code compliance.
WARNING: California Residents
This product and/or packaging can expose you to chemicals including Styrene, which is known to the State of California to cause cancer and birth defects or other reproductive harm. For more information go to www.P65Warnings.ca.gov.